New HL7 Interface Development
Add-on HL7 functionality for a selected EMR already in deployment or in a new EMR by implementing selected set of HL7 messaging segments from the HL7 standard defined for your type of practice, and establish two-way connectivity between your system and the Clinical Laboratory that would perform the Clinical tests on your behalf.
Most HL7 interface software development we do are choice of new a HL7 EMR interface, Or in-house LIMS requisition & resulting system using open source HL7 toolkits or a commercial HL7 API/SDK as specified.
Following HL7 conformance we also develop applications for non-laboratory HL7 Interface such as HL7-DICOM integration, HL7-XML serialization that may directly interface with 3rd party tools, or other Healthcare IT sub-systems
HL7 Interface Engine Integration
For test requisition and results interface between your system and the laboratory/LIMS system, HL7 engines work as HL7 message parser, validator and message transporter. HL7 engines at your system and laboratory system relay real-time HL7 messages for accepting new orders, finding error in data submission or sending back results or updating result of a test sample. You can choose a HL7 engine from open source - nHapi or commercial HL7 engines such as eTransX, Coverleaf, Interfaceware IGUANA , Rhapsody etc.
Most well known laboratories provide test requisition and results API for integration. Implementation of HL7 conformance varies in different laboratories, including HL7 versions - 2.3, 2.4, 2.5 or 3.x.
If your system is already HL7 compliant; your current HL7 engine can be used with/out a HL7 migration for portability, that you may specify in consultation. The HL7 modules for your system will be designed in accordance to your overall objective. Ask to build a new HL7 compliant system to create new lab orders, receiving results, reporting, or other HL7 conversion as deemed.
HL7 Compliant Clinical Laboratories
Many U.S based national and regional laboratories provide ordering & results interface via HL7 messaging. A few large and small HL7 compliant laboratories are LabCorp, Quest Diagnostics, Bio-Reference Laboratories.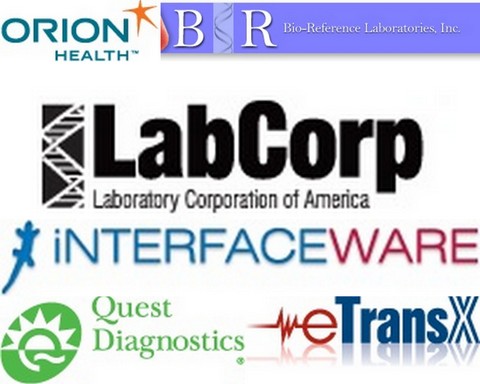 Based on the integration subscription purchased, some laboratories will provide with a temporary interface to validate HL7 data integrity in your HL7 message. Some laboratories will manually validate your HL7 messages before connecting with their system.
Get in touch with us for expert HL7 Interface design & development
EHR, HL7 Functionality
LIMS, HL7 Reporting
RIS, HL7 Integration
Other HL7 Conversion
Submit:
Contact form
email:
info@nativate.com
call:
+1 347-627-0201 (8 AM - 1 PM EST)